One of the best ways to explore San Francisco and the Golden Gate Bridge is by bike. During a vacation in 2017 in California, we spent almost a week in San Francisco and I took the opportunity to cross the iconic bridge by bike.
Unfortunately, our experience was not as positive as I had hoped for. I managed to get a flat tire, not once, but twice. So I ended up simply having to drag the bike across the bridge and dump it on the other side. Then I gave my youngest daughter a ride on her bike down the winding roads down to Sausalito. Quite simply, the whole adventure was a bit of a flop. So now that I had the opportunity to visit the city again recently, I took the chance to redo the bike ride, this time without any incidents.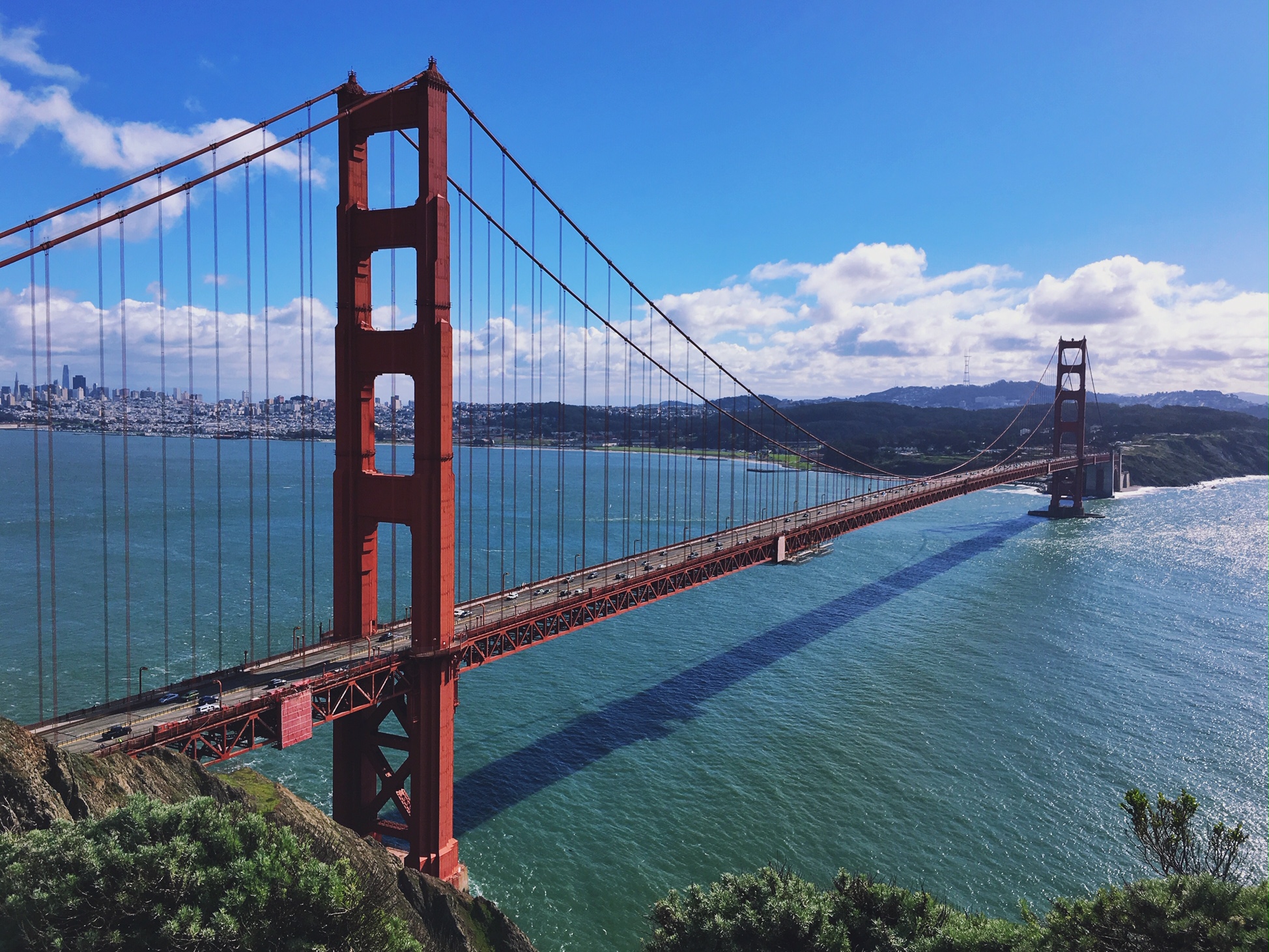 Where to rent a bike in San Francisco
There are several places in San Francisco where you can easily rent a bike. Depending on where you plan to go, you could either rent one at a rental downtown, near the Golden Gate Park, or near Fisherman's Wharf , which I would like to recommend. If you want to cross the Golden Gate Bridge, it is very convenient to rent your bike here. There are several different places where you can rent a bike, I used San Francisco Bicycle Rentals at 425 Jefferson Street both times. Great location, friendly staff and reasonable prices. They even gave me a full refund the first time when my bike had a flat tire.
How much does it cost?
Most bikes can be rented by the hour for around 8 USD, often a minimum of 2 hours. The daily rates are at about 32 USD but if you book online you get a considerable discount. I got a mountain bike for about 25 USD for a full day.
Locks, helmets, maps and a small bag are often included in the price.
Pro tip: there aren't many places near the bridge except for the Warming Hut at the south tower, where you can buy something to eat or drink. You will probably be away for a couple of hours, so bring some water and a snack. Otherwise you might get exhausted if you make the climb uphill to the viewpoints.
How to get to the Golden Gate Bridge
If you start near Fisherman's Wharf, it is very easy to ride your bike to the bridge. The most popular bike route and the quickest way is to go along the water, via Fort Mason and the Marina District and then continue Marina Boulevard to Crissy Field.
Also read: "Here are five good reasons to visit Crissy Field on your visit to San Francisco."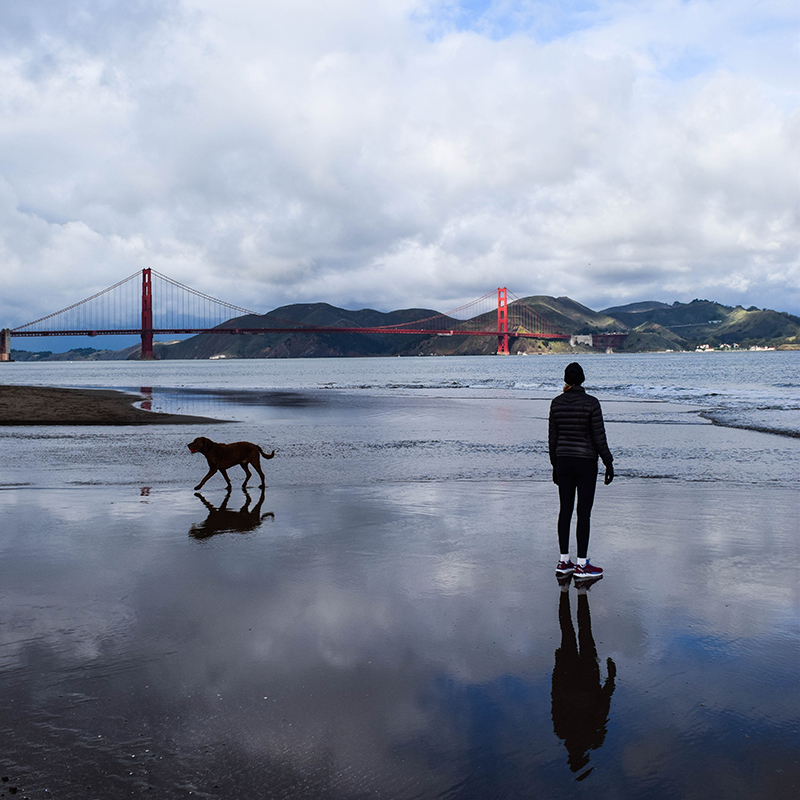 Continue onto San Francisco Bay Trail and make a stop for a coffee and a sandwich at Warming Hut. If you have the time you should also visit Fort Point National Historic Site and explore the old fort. Nearby you may see surfers who try to catch the waves right under the bridge.
Here's a photo of me at the old Fort Point.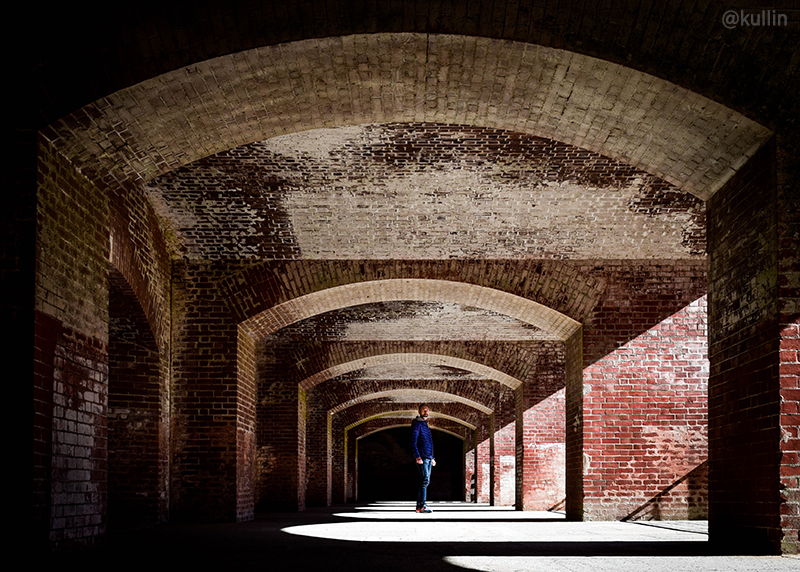 Where to go
If you want to ride the bridge one way, you can cross the bridge and then turn right and follow the road down to Sausalito. Explore this quaint little town before you take your bike onto the Sausalito ferry back to the Golden Gate Ferry Terminal. During the ride back you will have an excellent view of Alcatraz island.
But if you don't mind going uphill, I can recommend turning left at the North Tower Golden Gate Parking, up to Ridge Battery and the other view points further uphill. It is quite a climb and I walked parts of it because it was too steep to go by bike. The view at the view point is incredible and you can see the green hills, the bridge and the San Francisco skyline in the horizon.
I made a video of my trip across the bridge up to the view point here.
On your return back I recommend that you stop at the view points south of the bridge. From this point you will have a great spot for some really nice photos of the Golden Gate Bridge, like the photo below.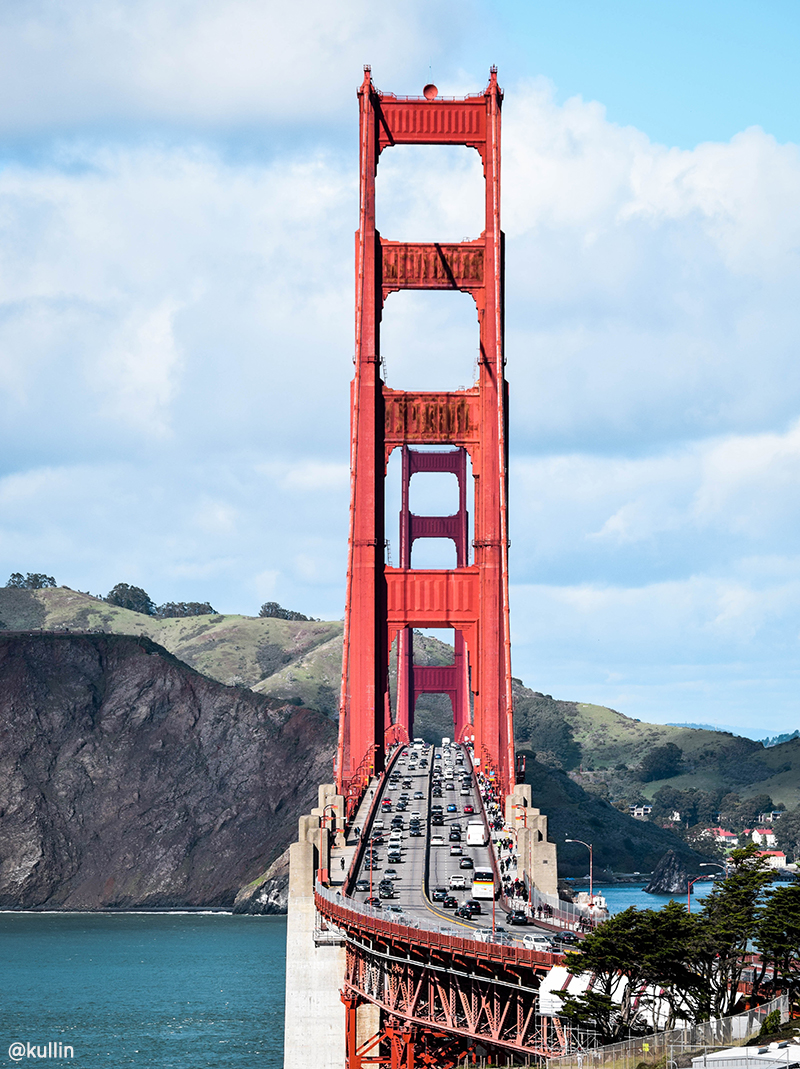 For more posts from my recent trip, read for example "Spectacular views from Twin Peaks in San Francisco".