I've been a fan of Manchester United since I was a small boy, still I have never seen them live. And since the Swedish striker Zlatan Ibrahimovic is playing there this season, I decided that this was a perfect time to go and see the club play. Now, getting tickets to see Manchester United at Old Trafford can be a bit tricky, especially games in Premier League, so I chose to see them play the return game against FC Rostov in the Europa League.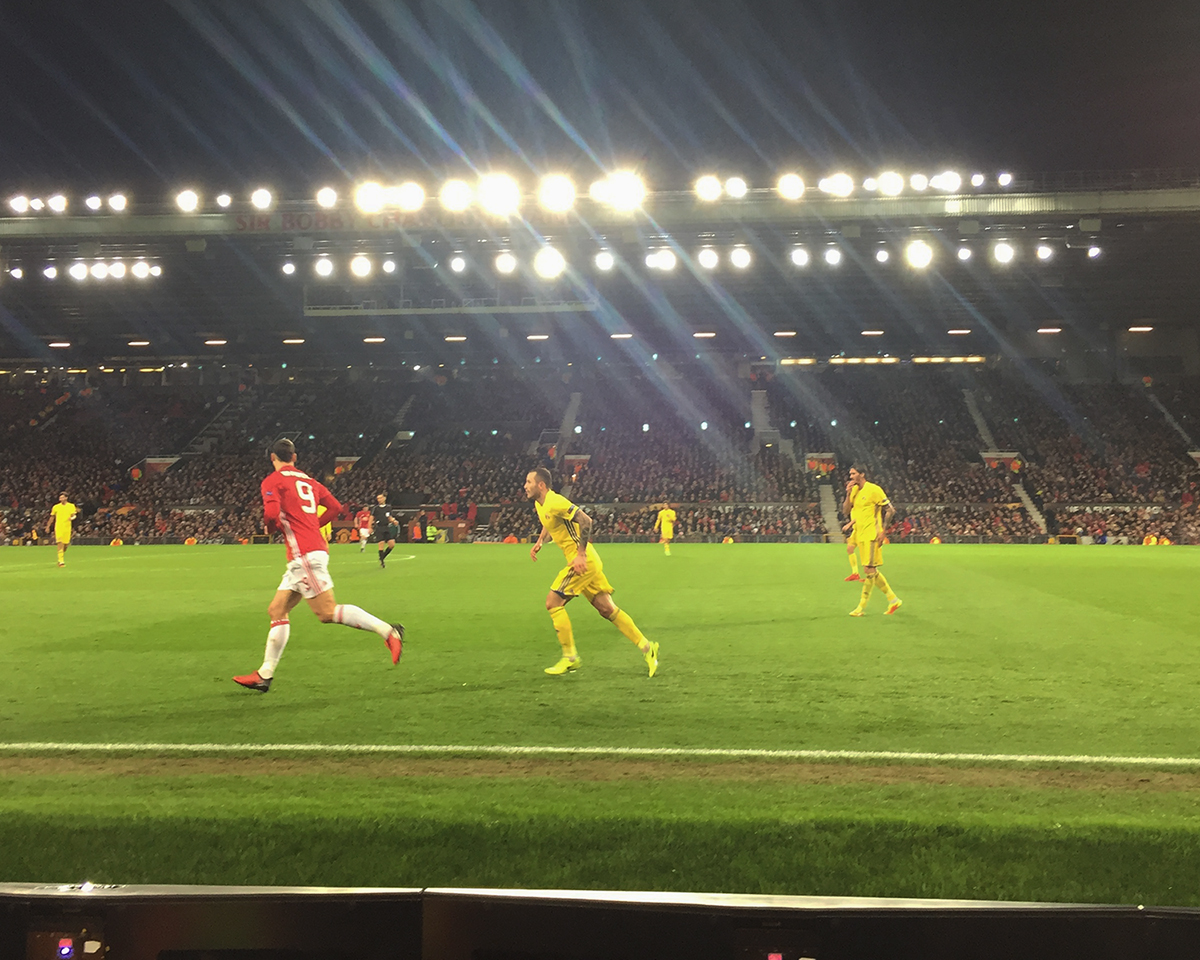 Getting tickets to Manchester United
Tickets to Premier League home matches are only sold to official members. Register at the site to become a member. Due to high demand, you need to apply tickets to some games (against Liverpool, Arsenal, Chelsea and Manchester City). Read more here.
It may be easier to get tickets to other games like Cup mathes. A list of upcoming matches can be found here.
Another alternative is to buy tickets via a travel agency like Thomas Cook. That ususally requires that you also buy a hotel package which might be a little more expensive than if you book hotel yourself, but at least you will be able to get official tickets this way. Please be wary of unoffical sites selling tickets.
How to get to Old Trafford
The easiest way to get from the city centre to Old Trafford is to take the Metrolink trams from central stations like Victoria or Picadilly. Trams stop at several different stations that are within 5-10 minutes walking distance from the stadium, like the Old Trafford or Trafford Bar stops. You can also take the D/E lines to Pomona or Exchange Quay. See full network map here.
A full day pass on the Metrolink is quite inexpensive and costs about 5 GBP. That pass is also valid on the tram to the Manchester Airport, but it takes forever (about 1 hour) so I would recommend taking that train instead to and from the airport.
Where to stay
Trains and trams to and from the airport stop at the Picadilly station (tram requires a change at Deansgate), so staying at a hotel nearby is highly recommended. I stayed at Motel One across the street and it was great value for money. Clean, great location and it won't break the bank.
An experience to remember
Old Trafford is the second largest football stadium in England, only second to Wembley. So naturally it was quite an experience to watch the team play live. I was lucky to get tickets really close to the pitch, fourth row, in the Sir Alex Ferguson Stand. How did the game end? United won the game against Rostov 1-0, Zlatan Ibrahimovic with the back-heel assist to Juan Mata's goal.