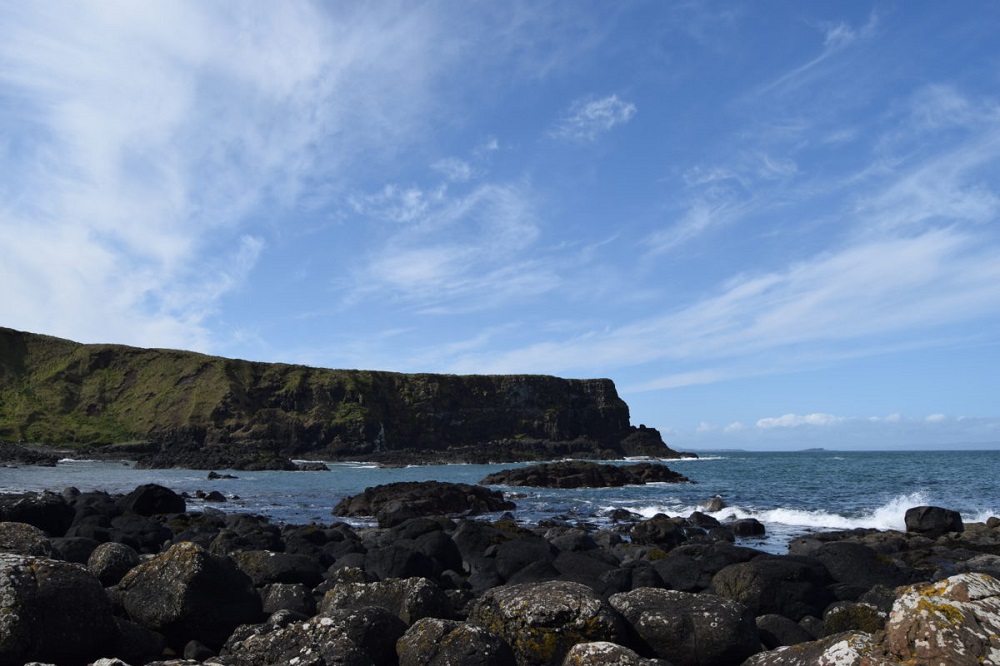 A weekend in Belfast
It's amazing what you can accomplish in just a weekend if you just plan a little. Or a lot…  I like to plan my trips so that I get the most out of them. I recently travelled to Belfast for a weekend with a friend and we managed to experience both fantastic nature, some whiskey tasting, shopping and a local beer or three.
We landed on a Thursday afternoon and had a rental car waiting at the George Best International Airport. From what we had gathered it would be as cheap to rent a car for three days as it would cost to take the bus from and to the airport. Cheap, in other words. The only challenge was driving on the right side of the road, but I managed to not get us killed during any point of the trip. Goal one achieved.
The Crown Liquor Saloon
Once we had settled in we hit the streets for a bite to eat and some drinks. Everything is within walking distance so we left the car at the hotel.
Our first stop was the Crown Liquor Saloon, a former Victorian gin palace and one of Northern Ireland's best-known pubs. We sat down at a table and although I'm used to finding Swedes wherever I go, I was a little surprised that the couple next to us were Swedish. I didn't see Belfast as a typical destination for Swedish tourists, but there you go.
Anyway, the other couple told us to try the beer tasting option, so we did. You could choose three out of five different draught beers in smaller glasses which was perfect for me. I can't drink three pints of beer in one evening.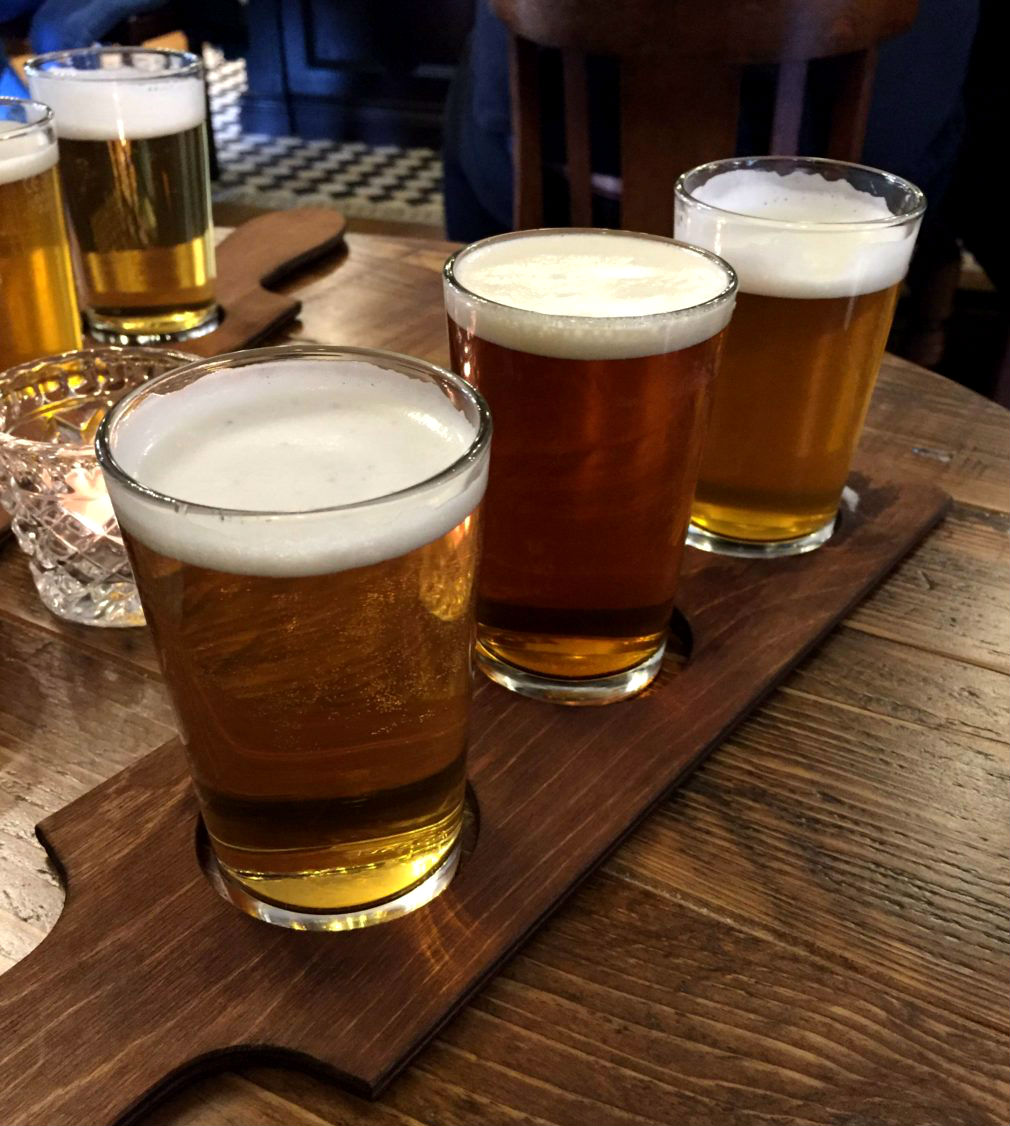 Here are the hard working bartenders trying to explain to confused Swedes what to order.
Giant's Causeway and the Dark Hedges
We got up early on Friday morning because we had a lot to cover during the day. We drove north for about an hour and 20 minutes to get to the natural wonders of Giant's Causeway. This was a must see for me during this trip and I was not disappointed. This UNESCO World Heritage Site is nothing short of amazing. As a result of volcanic activity millions of years ago, there are now some 40,000 hexagonal shaped basalt columns down by the water and it's just spectacular.
Goal two achieved.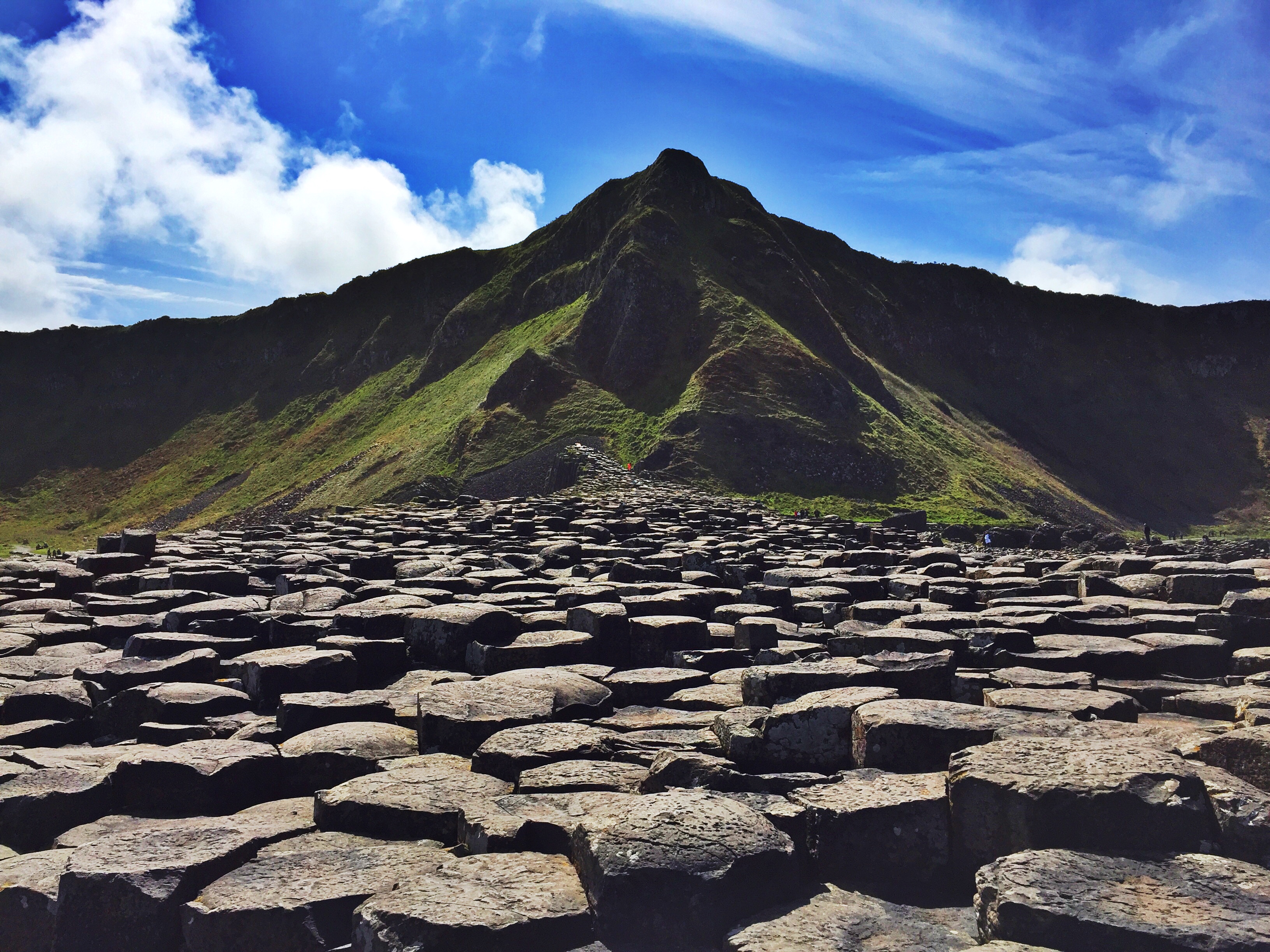 Everywhere we went we were told that we were lucky because the weather was great. It was sunny with some light overcast, so it was a great day to take photos at the causeway. As one guide told us:
"two days in a row in Northern Ireland without rain is called a drought"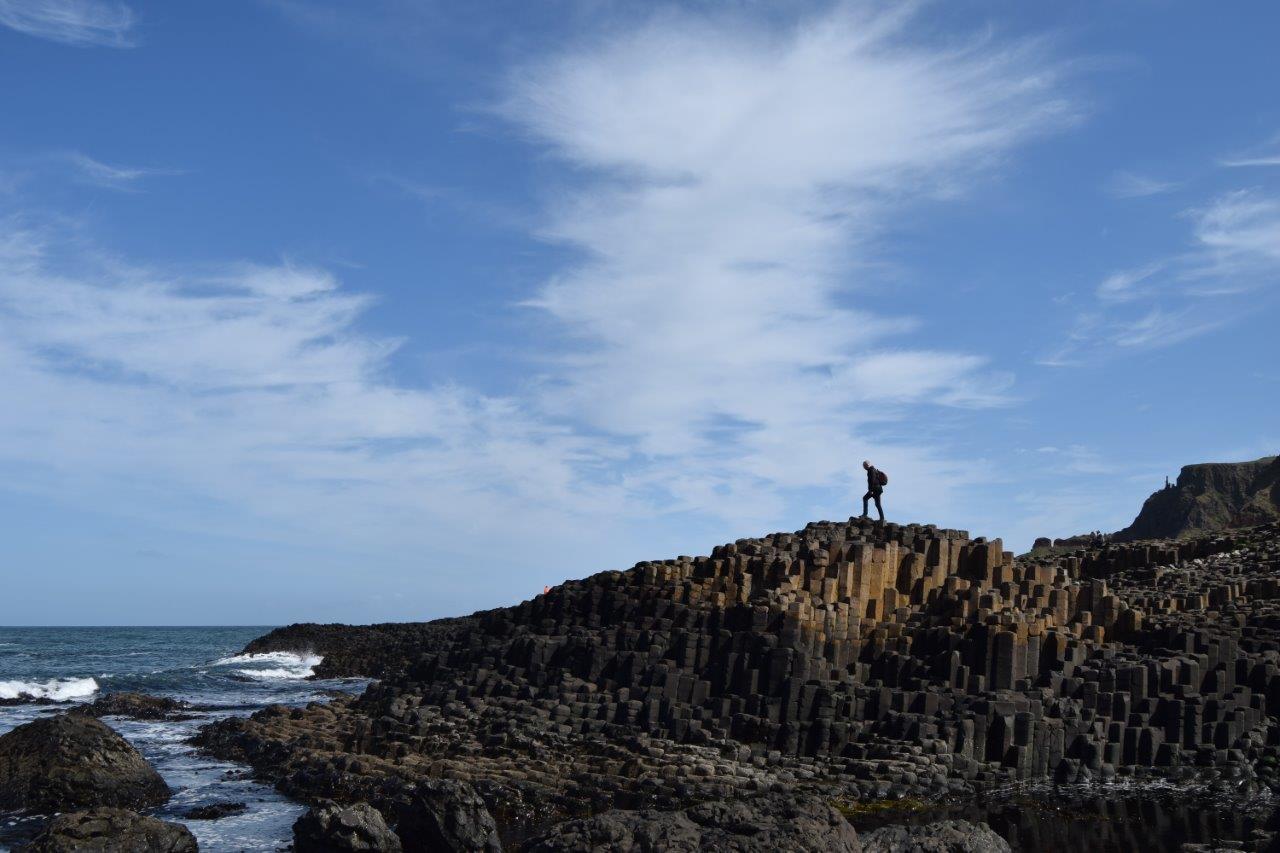 Bushmills – the oldest whiskey distillery
After our visit to Giant's Causeway we drove only a few minutes to Old Bushmills Distillery, the oldest whiskey distillery in Ireland. Bushmills was founded in 1608 and has been producing whiskey for more than 400 years.
Once again we were lucky because a tour of the premises was starting only two minutes after we arrived. So we walked the tour and got to smell the different barrels used to store the whiskey. All barrels that they use are "second hand" because the whiskey is supposed to aquire taste during the aging process from the previous liquids. Bourbon barrels, sherry casks and madeira drums are used for example.
We finished the tour with some whiskey tasting and a visit at the store to bring some bottles home.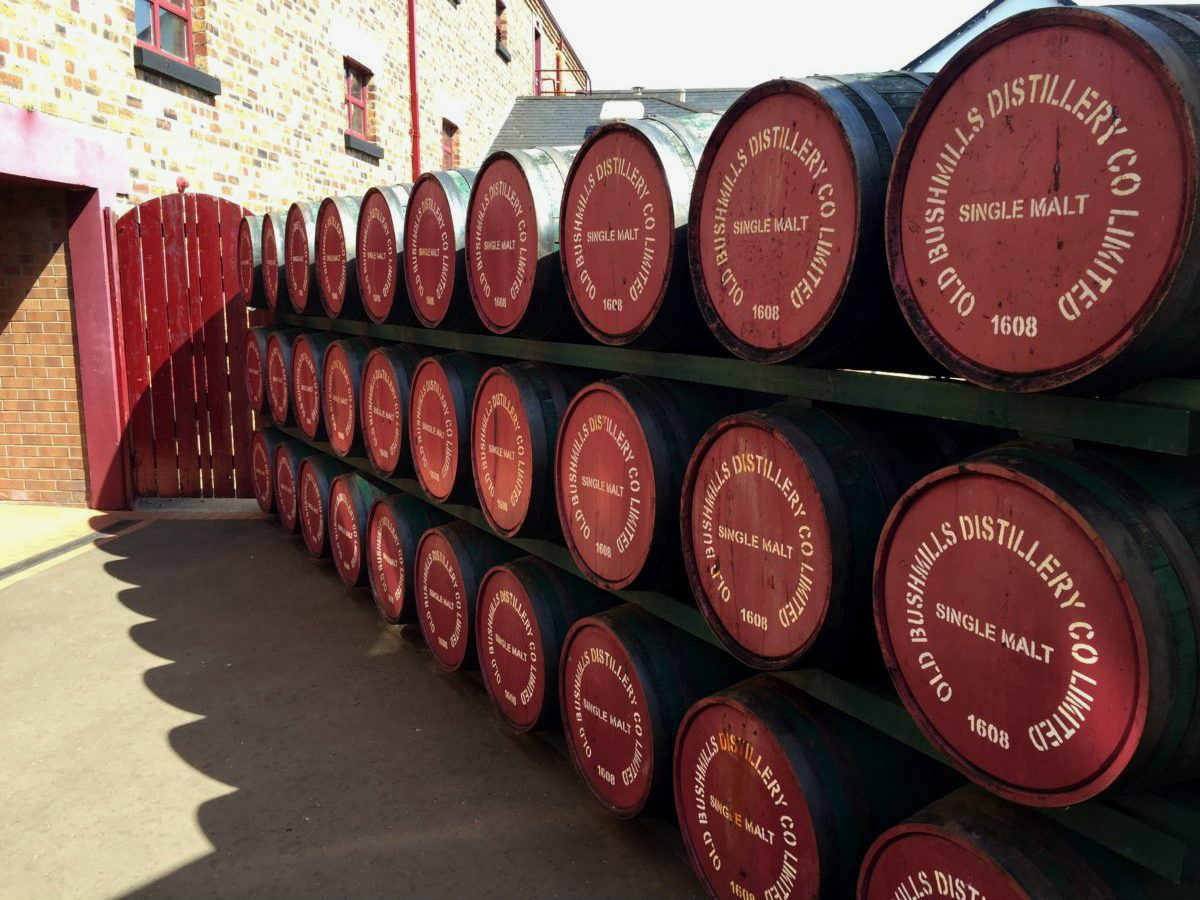 The Dark Hedges
On our way back from Bushmills we took a small detour in order to visit the Dark Hedges, which is a tunnel of old beech trees from the 18th century. The Dark Hedges have appeared on Game of Thrones and it is a magnificent place. Unfortunately it was damaged quite a bit during a recent storm, but it is still impressive.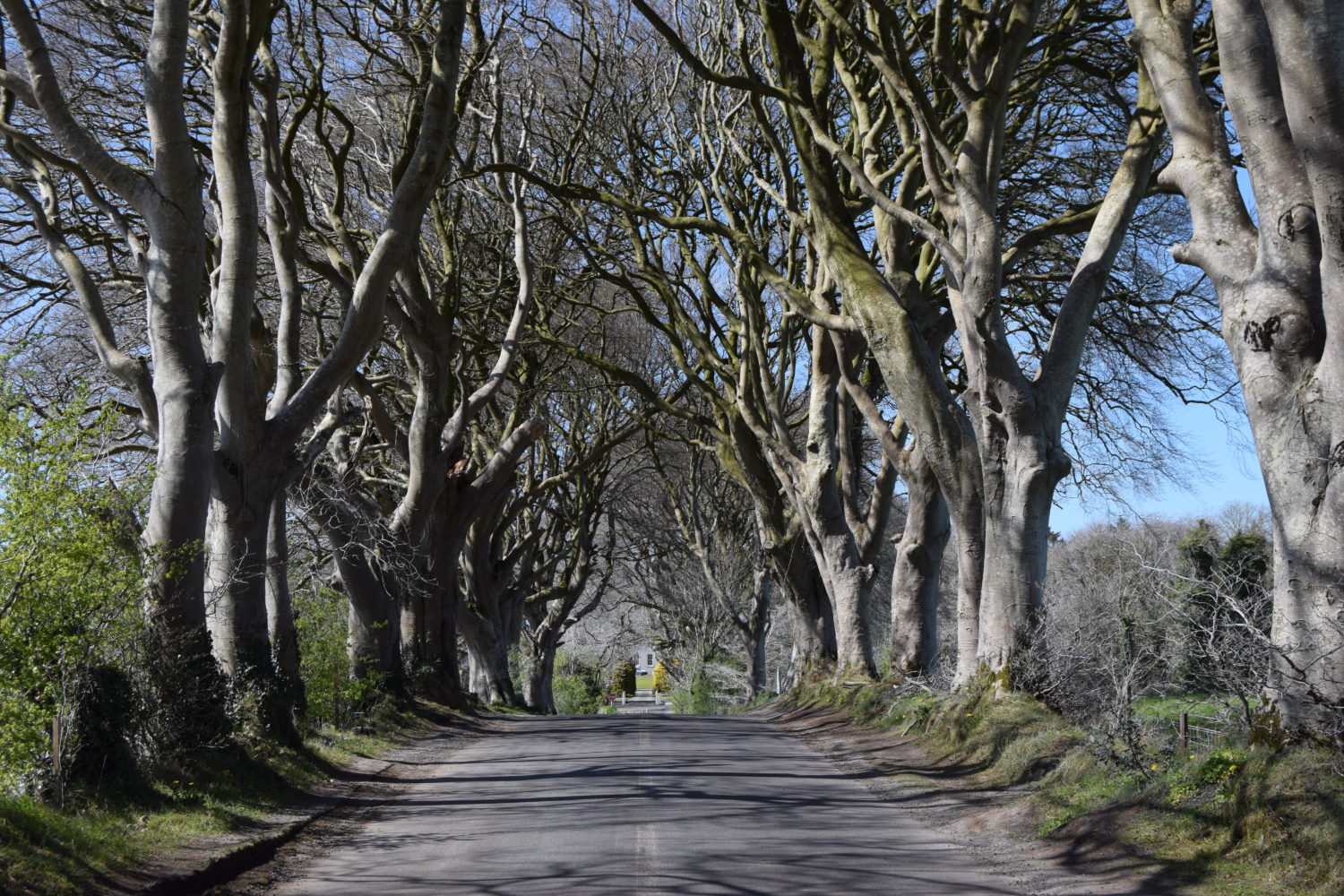 Gobbins Path
After a short stop at the Dark Hedges, we were in a bit of a hurry. We had a tour booked at Gobbins Path at 4.30 PM and we had specifically been asked to arrive fifteen minutes before in order for us to be all set when the tour was about to start.
But it's quite a drive from the northern parts of the region down to Islandmagee on the coast north of Belfast. Roads are small and we were starting to become just a little concerned that we might be late. At 4.26 PM we stormed into the reception only to find out that we weren't the last of our party to arrive.
Anyway, Gobbins Path is a cliff path originally built in 1902 as a tourist attraction. It was rebuilt and opened to the public again in August, 2015, and consists of a path along the cliffs, through caves and more than 20 bridges. The Tubular Bridge below is a replica of the original and the most famous of all the bridges on the path.
The tour along the path took about 2.5 hours and it was a true one-of-a-kind experience. I don't think you can find a similar path anywhere else.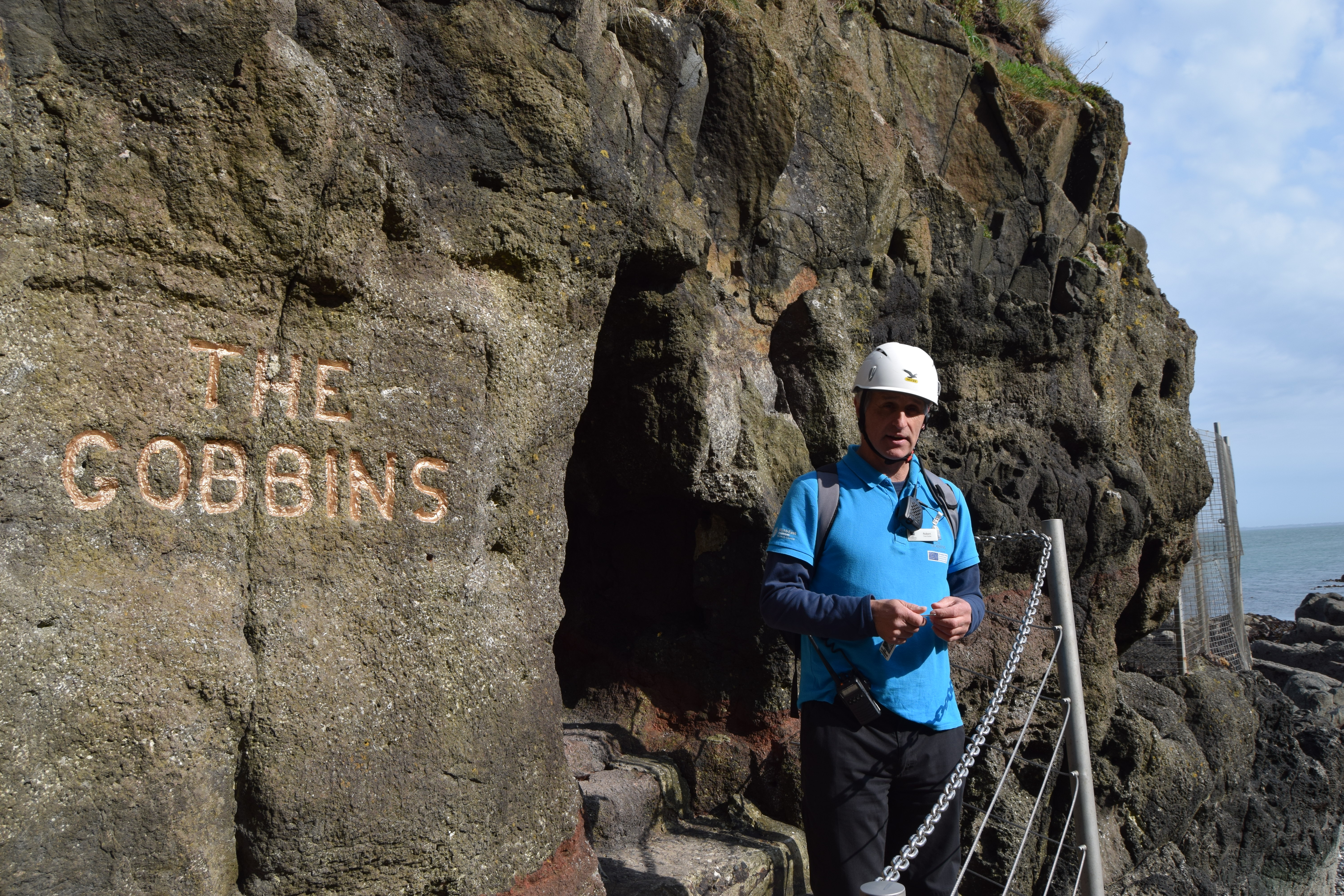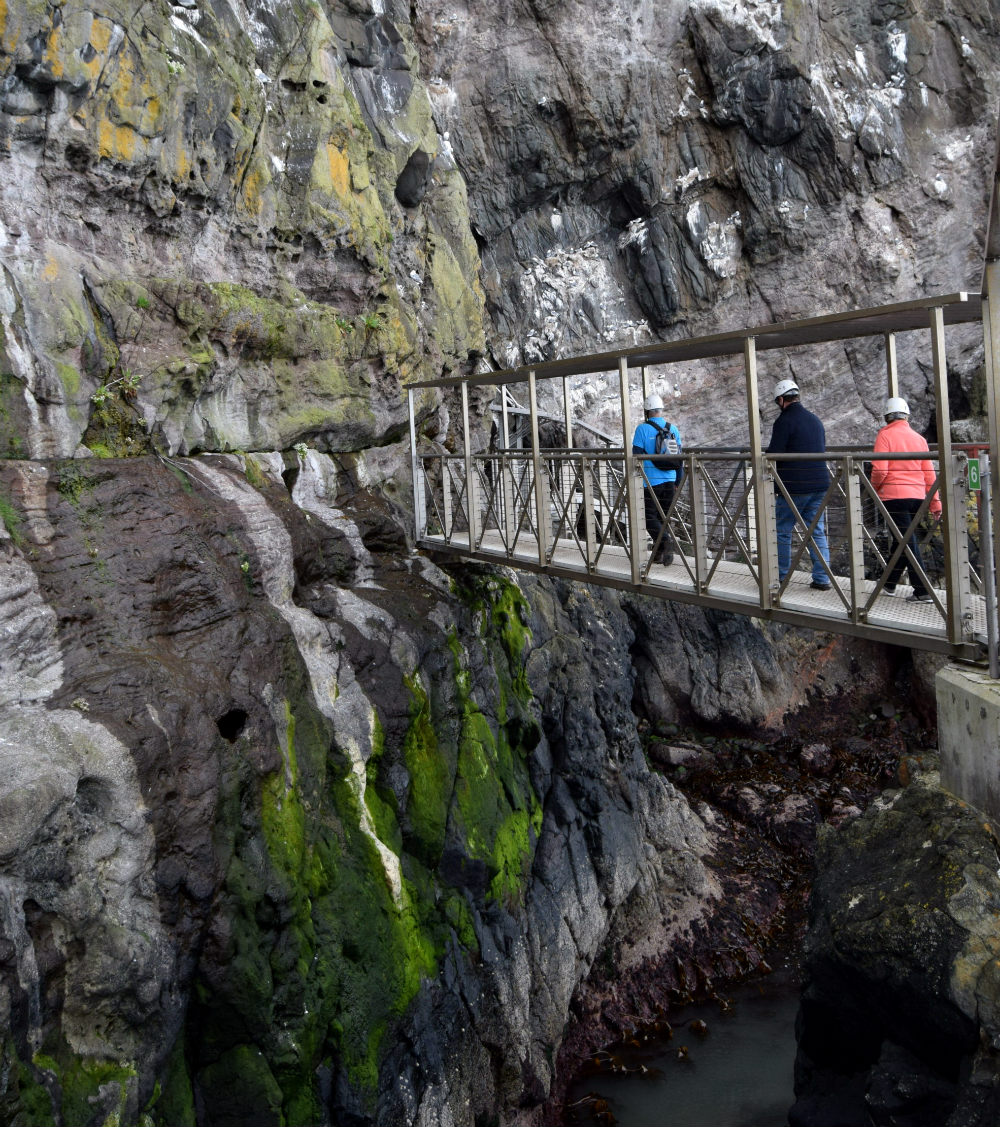 The Tubular Bridge below.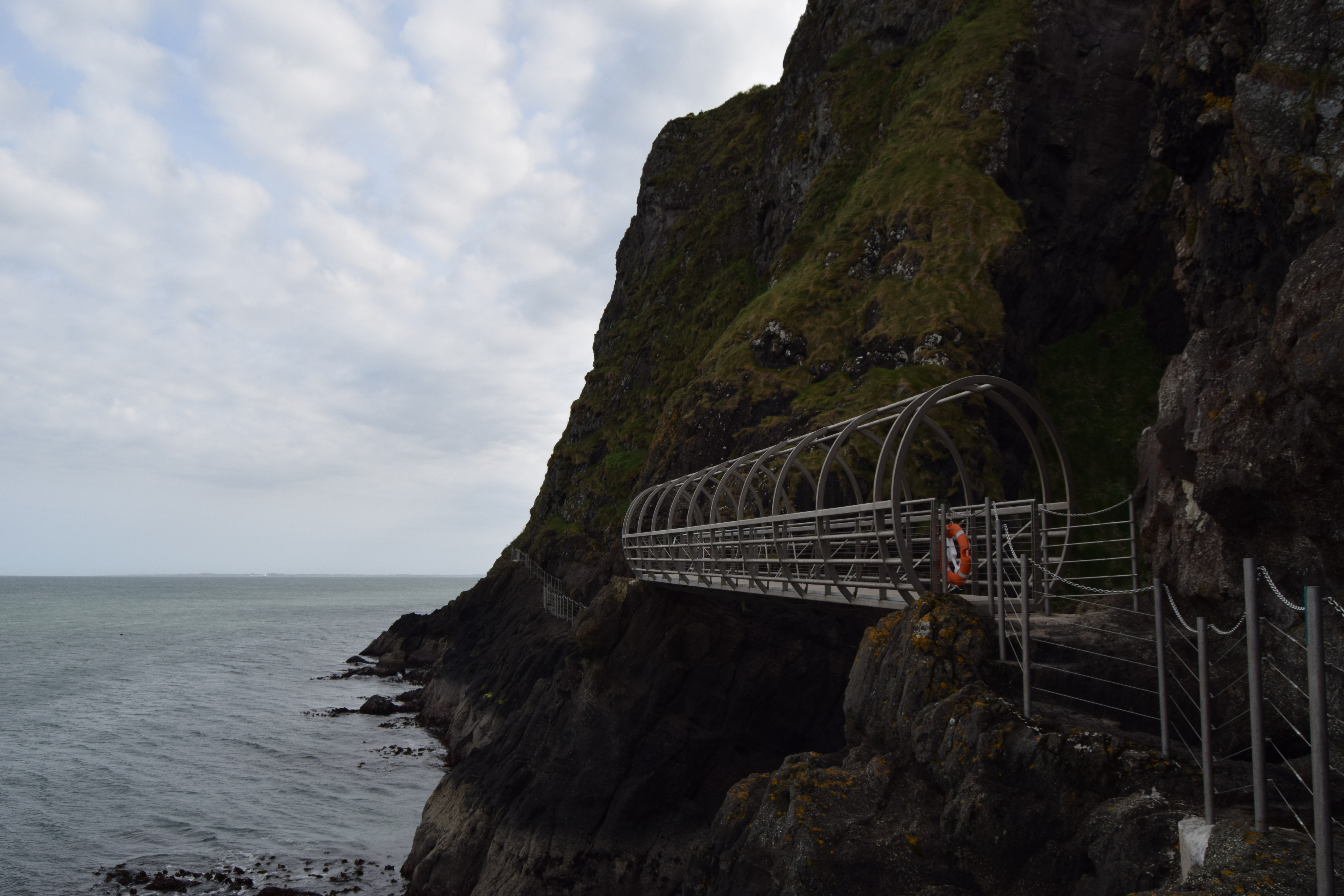 Saturday
On Saturday it was raining, so apparently there was no drought this weekend 😉
We spent most of the morning at the Titanic Belfast, the museum to honour the legend of Titanic. We could have spent some more time there but we had an appointment after lunch, since we had managed to get tickets to the Irish Cup Final in football.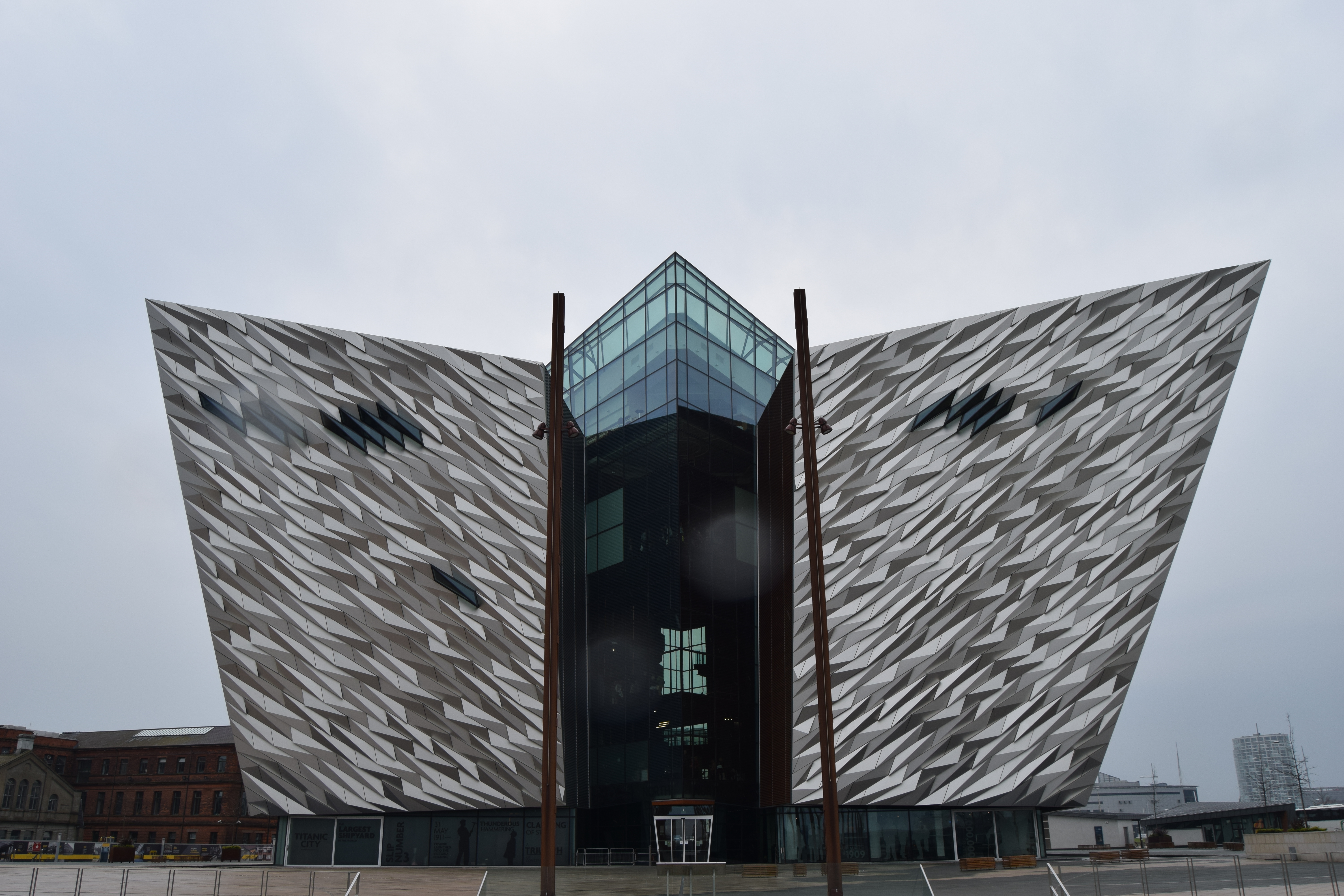 We had to grab a taxi in order to make it to the game in time and 30 seconds before the referee kicked the game off, we sat down in our seats.
It was a great atmosphere with fans from both teams singing and chanting throughout the game. In the end, Glenavon beat Linfield 2-0 to become champions.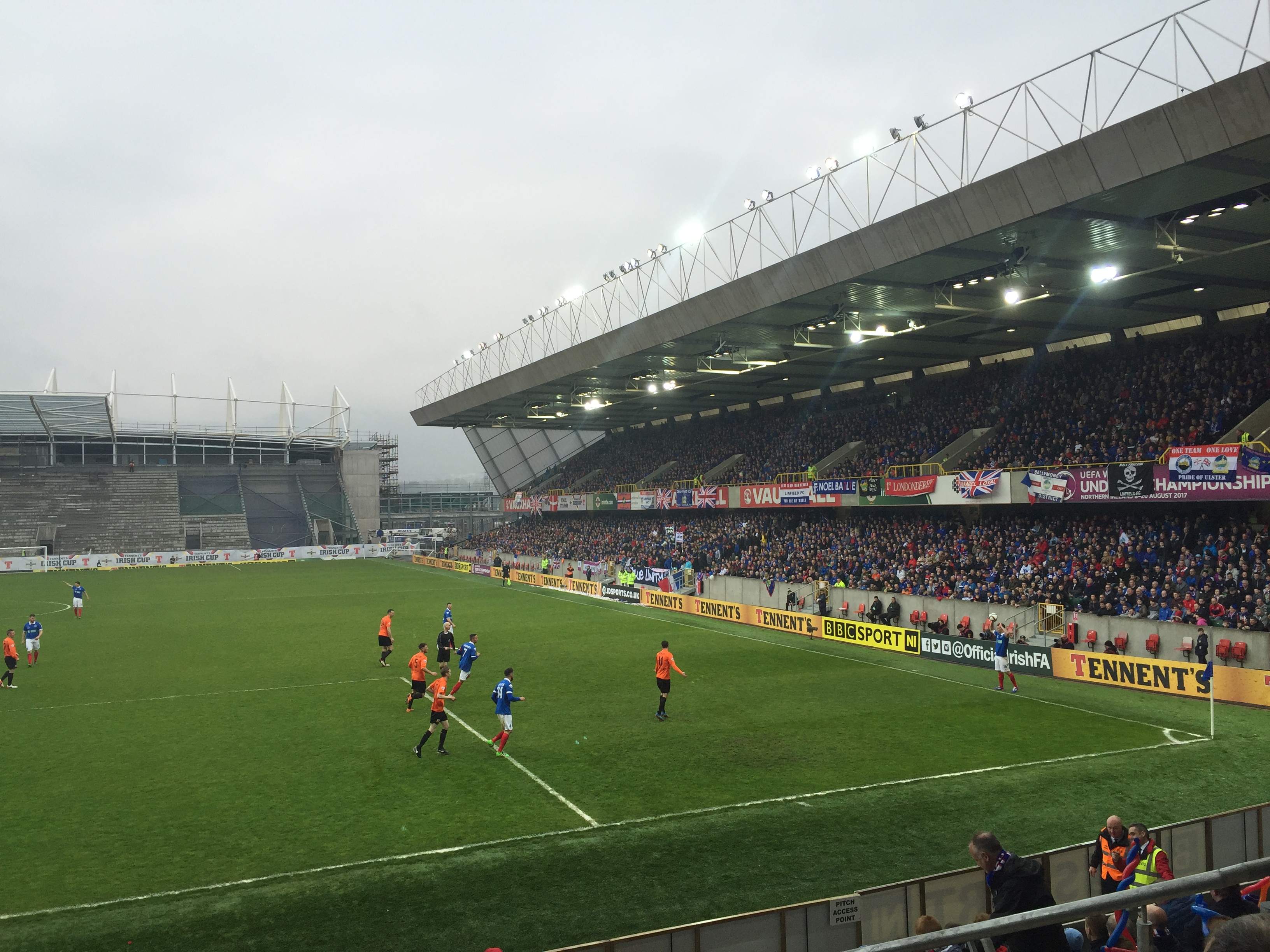 We had dinner and beer at McHughs, a classic pub located in the oldest building in Belfast.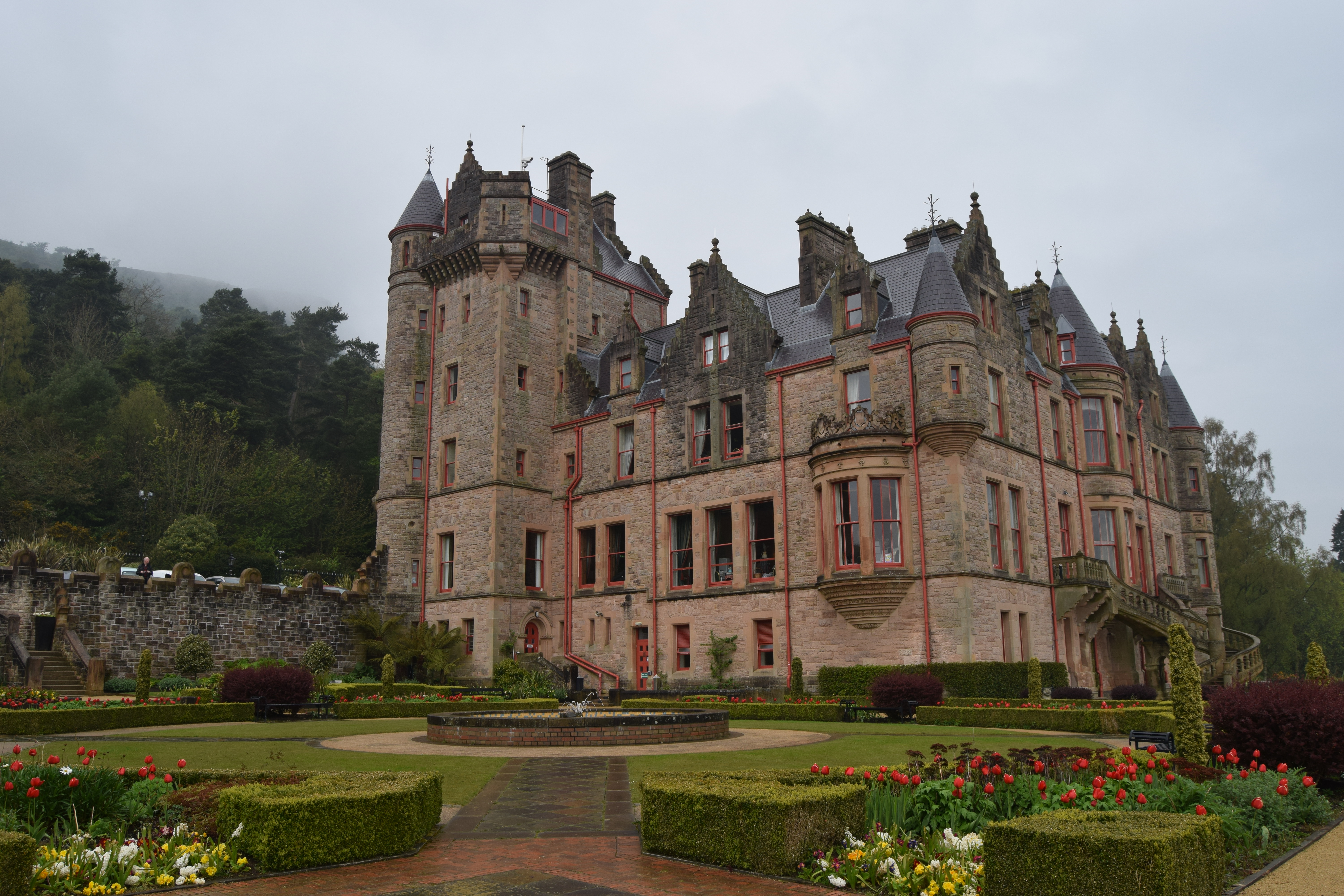 Sunday
Our KLM flight back to Stockholm on Sunday was scheduled at about 2PM so we had the morning for some last minute excursions.
We drove past Falls Road which is a road with significant political history. It has several political murals that we stopped to look at.
Then we drove up to Belfast Castle which was situated beautifully on the hillside with a view of Belfast. At least it used to have a great view, now trees blocked some of the view for us. We skipped the wedding exhibition inside the castle, since neither of us plan to get married again 😉
If we had had more time, I would have loved to walk up to Cave Hill, which is at the top of the hill, but that will have to wait until next time.
Before we left we stopped by the Victoria Square Shopping Centre. It has a really cool domed ceiling and you can go up to the top and get a great view of the entire city through the glass.
We did that one evening at sunset and it was a really cool view.
All in all, we had a great time and Belfast can be recommended as a weekend destination, at least if you make that a long weekend. There were a couple of things we didn't have time to see, so maybe we'll meet again…
Pin it to Pinterest: