Stockholm is a great tourist destination any time of the year. The Swedish capital is surrounded by water and is beautiful both in winter and in summer. However, there is a special time of year when the city is particularly attractive and that time is right now. Every year in mid to late April, the Japanese cherry blossom trees in Kungsträdgården in central Stockholm, Sweden, are in full bloom. During a week or two, people flock to the park to gaze at a sea of pink flowers and get the mandatory photos for Instagram.
I find that is quite amusing to stroll through the park and watch people pose for selfies, some more elaborate than others. The photo below is of a little girl posing for a woman, possibly her mother or grandmother. The couple apparently had set out to grab some great shots in the early morning hours before the big rush, having brought props like purple dresses and a tiny pink car.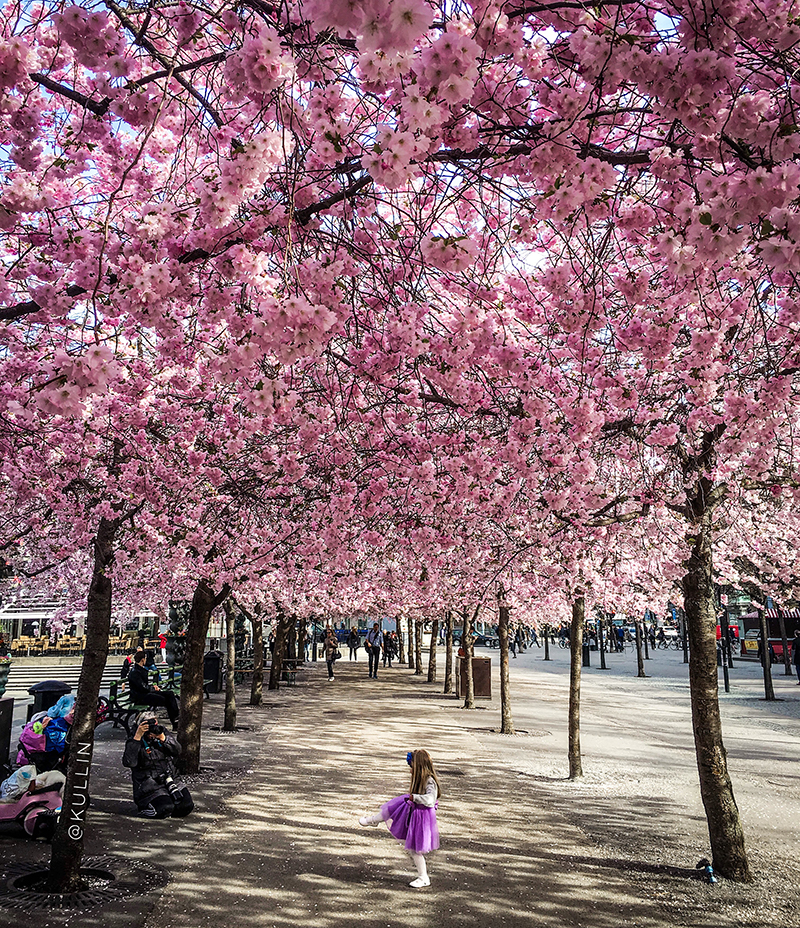 But Kungsträdgården is not the only place in Stockholm with rows of cherry trees. Another less known place (meaning not as crowded) is Luma square (Luma torg) in Hammarby Sjöstad. This is a lovely square near the old Luma factory that has pink cherry trees in a half circle on one side of the tram tracks and trees with white flowers on the other side. I didn't look very close but I assumed that these were cherry trees as well.
Here is a photo from Luma square from last weekend.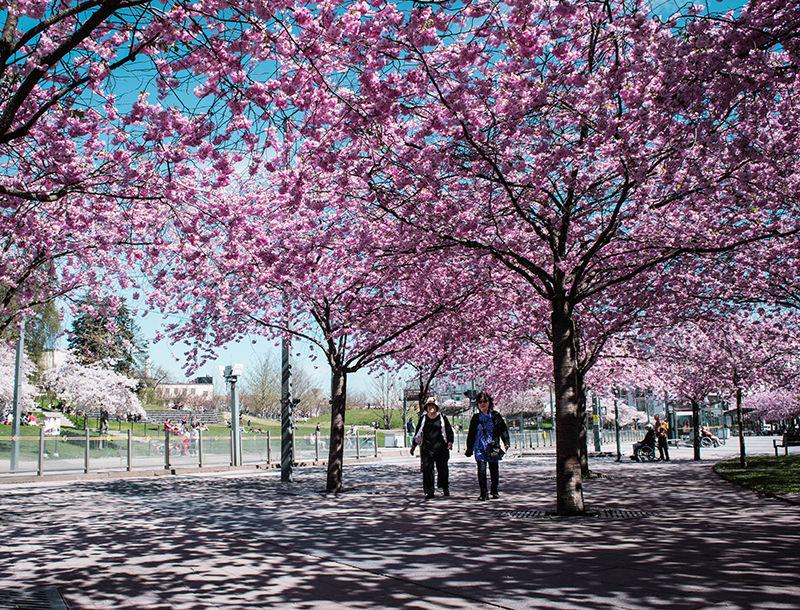 When to visit
The cherry trees are blooming in Stockholm from mid April to early May, depending on how late spring arrives. This year spring was quite late so the best time to see them was last weekend.
How to go to Kungsträdgården
Kungsträdgården is located in the city center of Stockholm, within walking distance from most other tourist attractions. It's a 10 minute walk from the central station via Klarabergsgatan and Hamngatan. The nearest subway station is called Kungsträdgården and it is the final stop on the blue subway line.
How to go to Luma Torg
Take the green line from T-centralen (Central station) south to Gullmarsplan. Change to Tvärbanan (tram line 22) towards Sickla and get off at the stop called Luma. Total travel time approximately 15-18 minutes.
Pin it to Pinterest: