Saint Petersburg on the west coast of Florida is nicknamed St Pete, or The Sunshine City. The city has the Guinness World Record for most consecutive days of sunshine: 768 days.  Together with neighbouring Clearwater, this is a popular tourist destination and the area is the home of some of the most beautiful beaches in the US.
I studied here one semester in college but I hadn't been back since then, almost 25 years ago. So I was really happy to get the opportunity to go back and explore the area, this time with a slightly bigger budget than I had as a student, and also with a rental car. Back then, I only had a bike, which if you have ever been to USA, you know doesn't really cut is a means of transport. You need a car to get around and experience stuff in this country.
Where to stay
If you are travelling to the Tampa Bay area for vacation, you should stay on the beach. There are so many hotel options that there is no need to look for anything other than beach front property, especially in St Pete. We wanted to stay on St Pete Beach, but you might as well go south to Pass-A-Grille Beach or north to Treasure Island or further up.
St Pete Beach is easy to get to and there are many hotels and restaurants along the beach. We chose to stay at Alden Suits which is right on the beach. The hotel has both heated pools, hot tubs and a cabana right on the beach for drinks and snacks. Parking is included and there are even two tennis courts above (!) the parking area. Parking is included in the price for the room, but breakfast is not.
The hotel is clean and the rooms are very spacious, with large comfortable beds. It was great value for our money and you are only steps from the beach.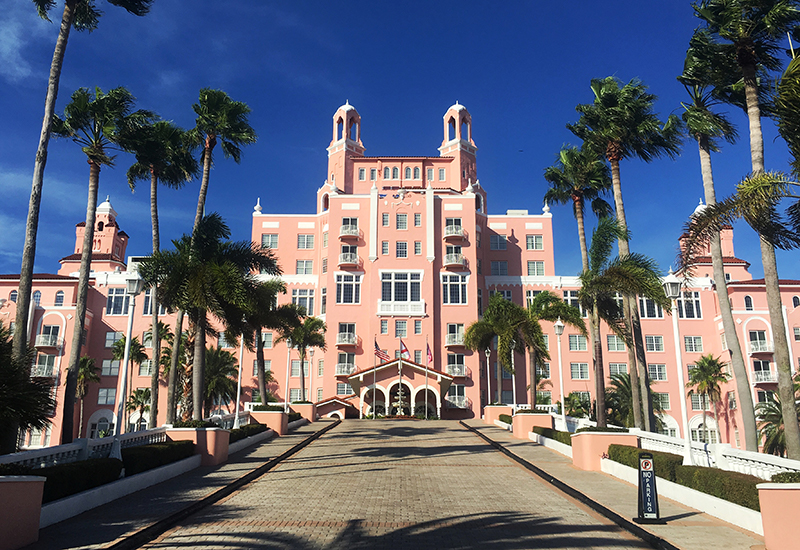 If your budget is larger and you are going for a luxury stay, you could choose the legendary pink palace, the Don CeSar, which is a bit further south. I have just seen this hotel from the outside, 25 years ago when I went to college in St Pete. It looks really cool and it is a real St Pete icon.
Airbnb
There are many places close to the beach that you can rent via Airbnb. If you haven't yet joined Airbnb, use this coupon (or click on image below) to get 40 USD off your first stay with Airbnb (disclosure: I will get a small commission if you use this link).
The best beaches
This part of Florida is home to some of the best beaches in the US. There are many choices and anywhere you go, you will find a nice stretch of beach. In fact, most beaches are so nice that there is really little incentive to go away and explore others.
St Pete Beach  
St. Pete Beach was voted TripAdvisor's No. 7 Beach in the U.S. in 2018 and it is easy to understand why. The sand is white as flour and this time of the year there are very few people here so it is not at all crowded. There are many hotels and restaurants on Gulf Blvd and at 4700 Gulf Blvd there is a public access parking, if you only want to visit the beach for a day.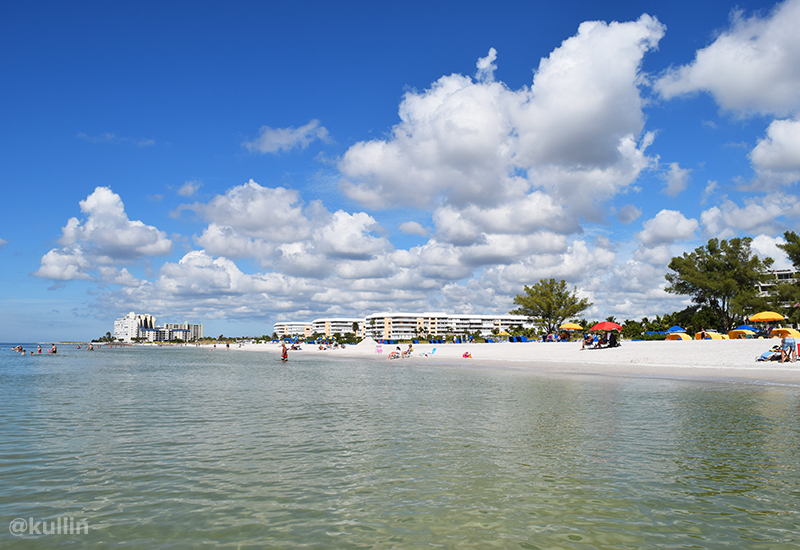 Fort de Soto Park 
This popular county park south of St Pete Beach, stretches over five keys. There are several beautiful beaches here with shallow waters, picnic areas, bike trails, a historic fort and a fishing pier. We spent a few hours on North Beach, a long calm beach with beautiful white sand. The sensitive wildlife here had been somewhat damaged by too many visitors and parts of the vegetation was cut off from the public in order for the plants to grow back. In some parts, there were bushes that had lost all leaves and in combination with the pure white sand, made the area resemble winter in the Swedish mountains.
When we visited, the Florida Halloween Halfathon & 5K race was held here, so there were runners everywhere in crazy outfits. But the beach was almost empty and we had it almost entirely for ourselves.
Some other lovely beaches that we didn't visit are:
Pass-A-Grille-Beach: Just south of St Pete Beach, from the location of the Don Cesar and further south, this beach was voted one of the Top 5 beaches in Florida by USA Today in 2015.
Clearwater Beach: North of St Pete. I still haven't made it to Clearwater Beach, but this beach is often rated among the most beautiful beaches in North America and was voted the No. 1 beach in America by Trip Advisor in 2018 and 2016.
Things to do
The Dalí Museum
Last time I visited the Dalí Museum was in 1993. This is the largest collection of Dalí art outside of Europe and since 2011 the museum is located in a new cool waterfront building downtown. If you are interested in art and culture I really recommend spending a few hours exploring the unique collections at the Dalí Museum.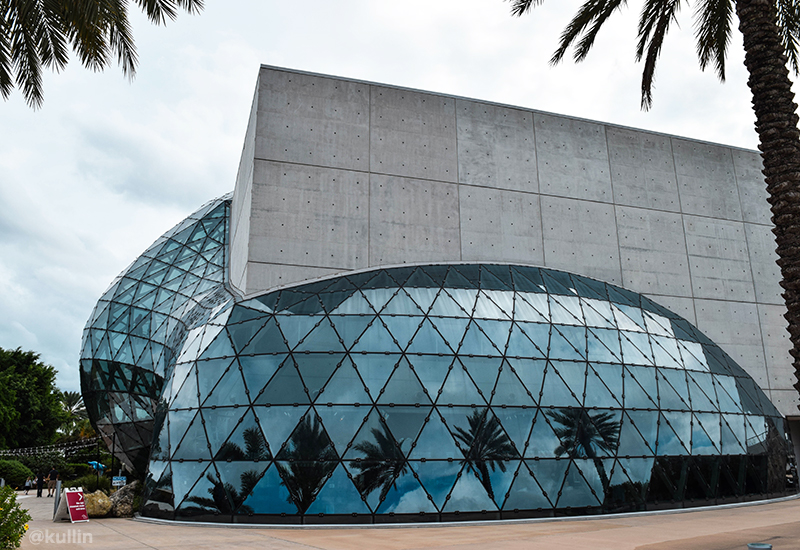 Visa det här inlägget på Instagram
Shopping
There are several malls in the area, for example Tyrone Square mall, a shopping centre with 130 different stores, located at Tyrone Square in the western parts of St Petersburg. Larger outlets can be found north of Tampa (Tampa Premium Outlets) and in Bradenton south of St Pete (Ellenton Premium Outlets).
If you are into thrift stores, there are a number of second hand shops in St Pete, like Goodwill and Sunshine Thrift Store on  34th St N.
Mural art tour
Downtown Historic District is an area in central St Pete, with cool restaurants, bars, shops and galleries. Located around Central Avenue, this area is the home of hipster ice cream shops, micro breweries, glass blowers and crafts shops. This is also a great place to discover some really cool murals, especially round the 600 block. See 14 inspiring graffiti murals in this blog post.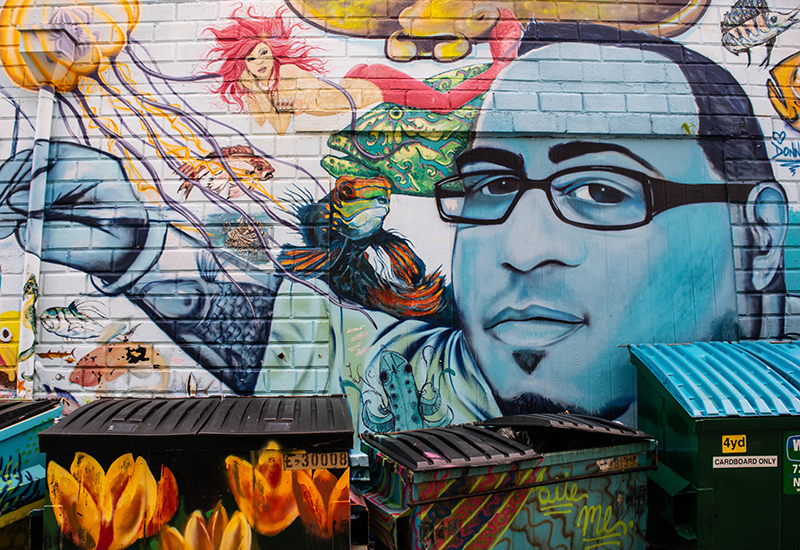 Sports
For sports fans, there are several opportunities to watch games in the area, depending on season. Tampa is the home of NFL team Tampa Bay Bucchaneers and the NHL hockey team Tampa Bay Lightning. I watched a game with the Lightning back in 1993 when they temporarily played a season at Tropicana Field in St Pete, an indoor baseball arena, now the home of Tampa Bay Rays.
Pin it to Pinterest: